Nowadays, more and more women, although they are more and more aware of design and fabrics, but some of them do not know how to choose underwear size?
Now, QueenFox professionals will tell you how to measure your underwear size:
Measuring your bra size involves a lot more than just taking a tape measure and writing down a band size (if only it were that easy!). In the next three steps, we will first measure your band size, then your bust size, and finally your cup size.
Once you get the correct - and current - measurements for your band size, bust size, and cup size, it will SO be much easier for you to find bras that fit properly and fit you no matter where you buy your bras. Plus, with these measurements, you'll finally get confirmation that you can throw away or donate those bras in your drawer that you have been keeping just to keep them.
Generally we need to complete the measurement in three steps:
First:Find Your Band Size:
Make sure you are wearing a lightly lined or unpadded bra before measuring your waist size. Take a tape measure and place it snugly around your back, keeping it parallel to the floor, and measure just below your bust. Round off to the nearest even number and record your band size.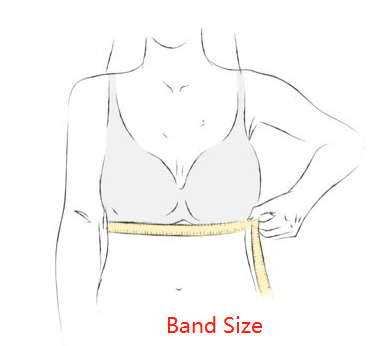 Second: Measure Your Bust Size:
Place the tape measure around your back at the level of your waistband and measure across the fullest part of your chest. Be sure to hold the tape measure firmly against you and parallel to the floor. Take a few deep breaths and let the tape measure rest in its most comfortable position (but not too loose!). When it gets down to the half-inch, just round up. That's your bust size!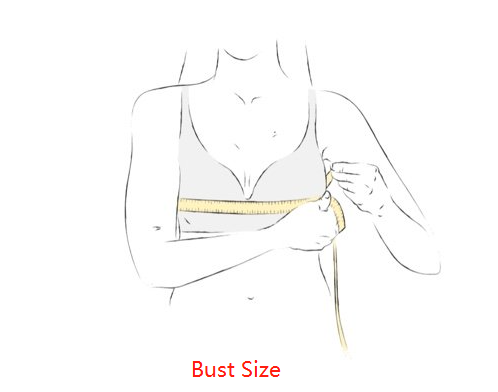 Third: Make Sure Your CUP Size:
Determining cup size can be difficult because cup sizes can vary by manufacturer. The most common method for calculating your cup size is to subtract your band size from your bust size and use the difference to determine your cup size using a bra size chart.
Bust Measurement
minus(-)
Band Measurement
equal(=)
Cup Size
Difference(Inches)
Your Cup Size
1''
A
2''
B
3''
C
4''
D
5''
DD
6''
DDD
DFSA
It is not uncommon for bras to vary in size from one brand to another. This discrepancy occurs because different bra sizes often have similar measurements, differing slightly only in cup and band measurements.
So let us get to the bottom of what your bra size is. Start with your current bra size and use the chart below to refine your bra size and fit assessment.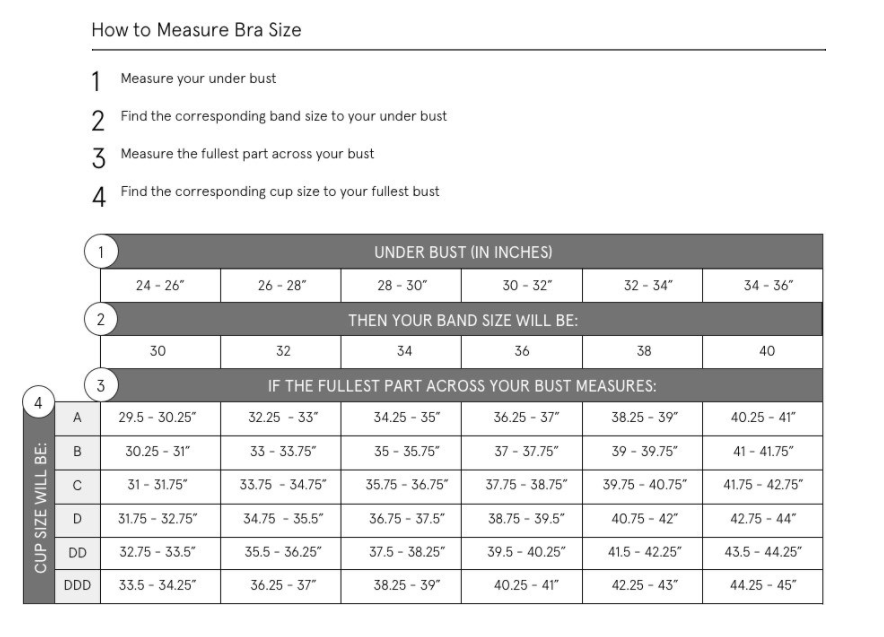 Got your bra size?
Find your best-fitting bra Set now